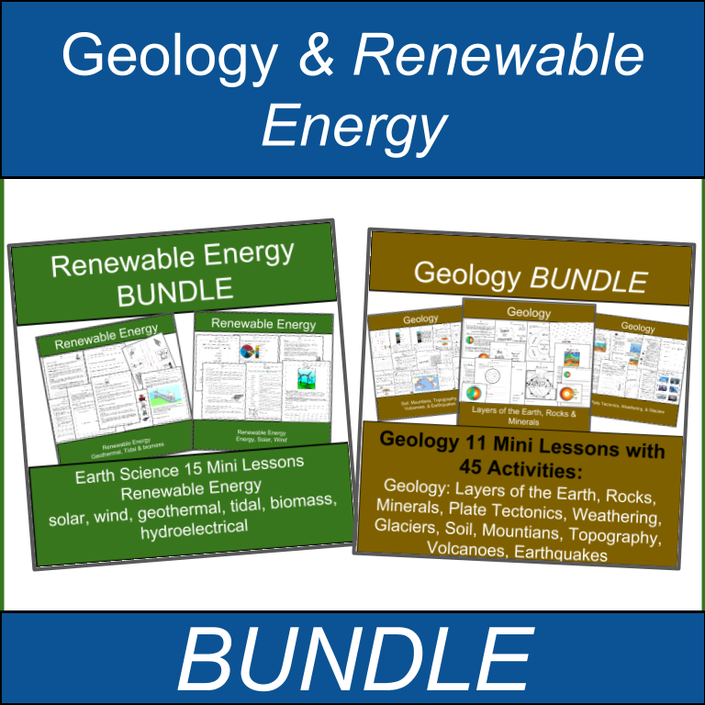 Geology and Renewalble Energy BUNDLE
Course Curriculum
Earth Science for Kids
Available in days
days after you enroll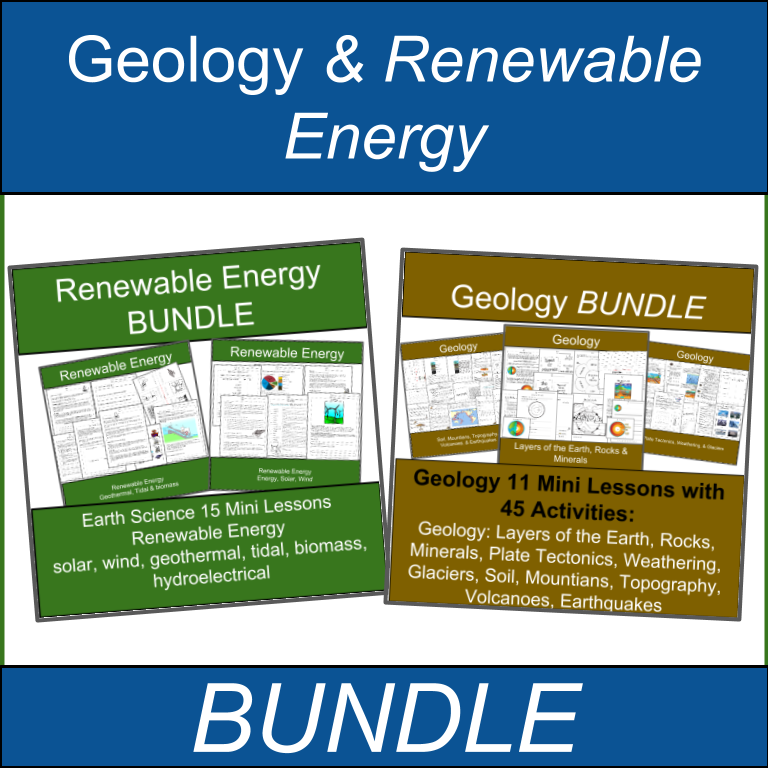 Topics covered:
Energy, renewable energy, biomass energy, geothermal energy, hydroelectric energy, solar energy, wind energy, and wave and tidal energy.
15 Mini lessons and Activities Included
• Energy
• U.S. Consumption Graph and questions
• Renewable Energy Foldable
• What is Biomass Energy
• Biomass Energy Reading Comprehension
• Geothermal Energy Reading and Word Search
• Hydroelectric power
• Solar power
• What can be powered by the sun?
• Wind power
• Wave and tidal energy
• The Turbine
• Solve Our Energy Crisis
• Video Response
• Memory Game
Earth Science: Geology Mini-Lessons and Activities
Most of these products are No Prep: Just print and go!
Studying geology this year with your students? These Earth Science and geology mini lessons are meant as a companion to all of the various topics your students will explore this year. Geology and Earth Science in general are fascinating and engaging. I hope your students enjoy these activities!
Topics covered:
Composition of the Earth: layers including core, outer core, mantle and crust, Rocks: metamorphic rock, igneous rock, sedimentary rock, and the rock cycle, minerals and all their glory, plate tectonics and oreos, weathering/erosion/deposition, glaciers, mountains: fold, fault-block, and volcanics, topography, topographical maps, volcanoes: cinder, composite, shield and lave dome, and earthquakes, and video records
11 Mini lessons and Activities Included
Layers of the Earth (5 pages)
Layersof the earth reading
Label the layers of the earth worksheet
Layers of earth poster labeled
Layers of the earth poster unlabeled
Layers of the Earth writing paper: Teacher created prompt.
Rocks (6 pages)
The Rock Cycle reading
Rock Cycle poster
Rock Cycle Writing
Label rock cycle (color and black and white)
Types of Rocks
Minerals (4 pages)
About Minerals reading
Mineral mini booklet
Minerals foldable
Types of minerals Writing
Plate Tectonics (6 pages)
About Plate tectonics reading (2 pages)
Oreo Lab: plate tectonics (2 pages)
Plate tectonics Word search and answer key (2 pages)
Weathering , Erosion, Deposition (7 pages)
Weathering Reading
Erosion Memory Game
Weathering writing
Glaciers (4 pages)
About Glaciers Reading
Glaciers foldable
Soil
About soil reading
Soil mini-booklet
Soil profile reading
Label soil
Mountains (5 pages)
Mountains reading
Mountain vocabulary
Mountain feature foldable
Mountain word search and answer key
Topography (4 pages)
Topography reading
Topography writing
Topography internet activity and questions
Volcanoes (5 pages)
Volcano reading
Volcano vocabulary
Ring of fire
Volcano in a cup lab
Volcano writing
Earthquakes (5 pages)
Earthquake reading
Earthquake questions
Earthquake project and rubric
Make a seismograph project
Video record sheet
Your Instructor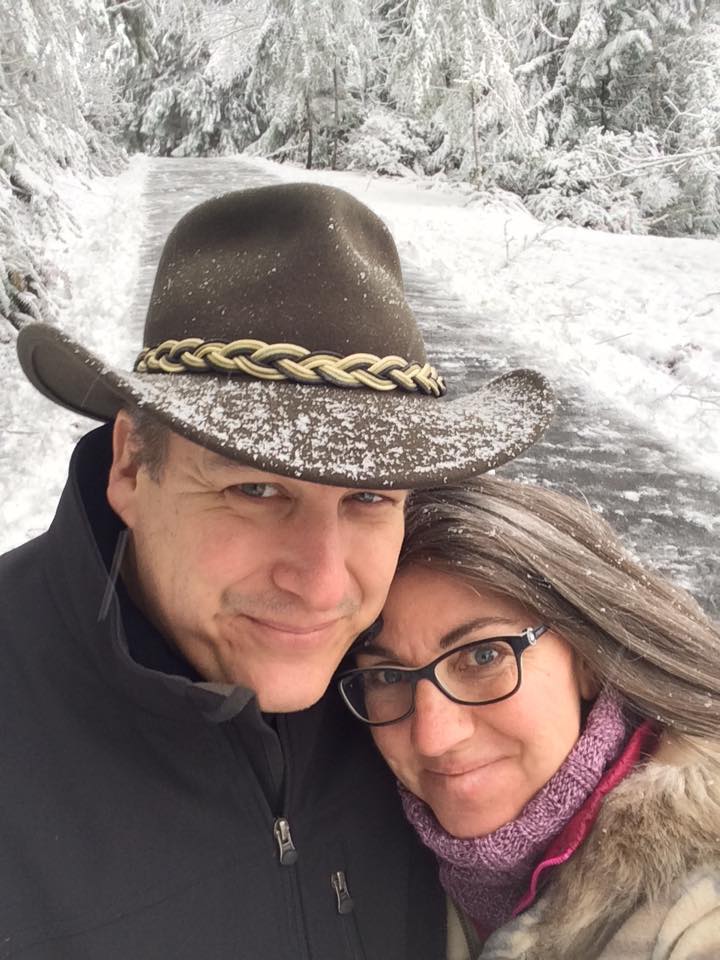 I'm a lover of Jesus, a blessed wife, and the happy homeschooling mom of FIVE amazing sons.
(It's crazier than it sounds)
I don't believe in "one-size fits all" homeschool. Honestly I don't believe homeschool is for every family.
Different ways we've educated our five boys over 20 years:
Public school

co-op school

Sharing curriculum with friends

Online public school

Charter School

Design and create own curriculum

Community college

I've been homeschooling for 20 years and mentoring homeschool moms for over 10 years now.
In my "spare" time I run A Better Way to Homeschool and enjoy reaching homeschool mamas on Facebook.
Frequently Asked Questions
How long do I have access to these printables?
How does lifetime access sound? After enrolling, you have unlimited access for as long as you like - across any and all devices you own.