LIVE Huddle Schedule 2019!!
Here is the 2019 Schedule
You must be a member to participate in the Members only Huddle events.
Huddles hosted 2-3/times a month
All LIVE events will be uploaded inside the members only sections of this page
When you become a member you CAN access the older huddles
Live Huddles are hosted on Facebook at: https://www.facebook.com/groups/HomeschoolHuddleMembers/
Dates are tentative and may be changed at anytime due to "life". Set your calendar!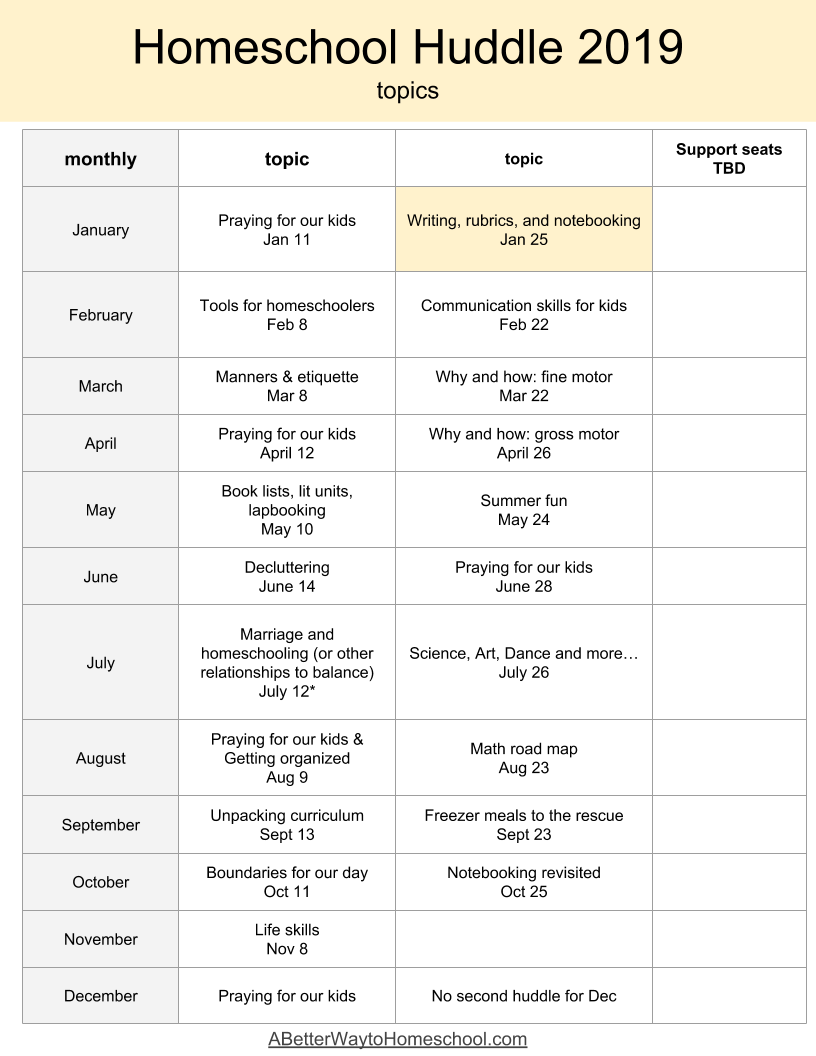 2019 Huddles
January 11, 2019 (praying over out kids)
January 25
February 8
February 22
March 8
March 22
April 12
April 26
May 10
May 24
June 14
June28
July 12
July 26
August 9
August 23
September 13
September 27
October 11
October 25
November 8 (Only one huddle in November)
December 13 (Only one huddle in December)
Past Huddles
2018 Huddles Are archived under the 2018 Tab inside
August 15 Goals and tape recorders!!
August 21 Character observations and mentor sentences
September 6 (How to step into a topic without being overwhelmed)
September 28: read alouds and when to stop homeschooling!
October 11: Math!!!
October 27: Paper projects
November 15 Becoming expert Help Seekers (Due to sickness, only one huddle in November)
December 6 When Attitude gets in the way of homeschooling (only one huddle in December)
You can download and print your schedule below!
2019 Huddle Topics (3).pdf